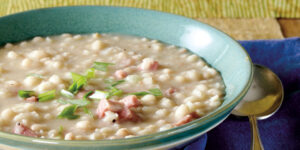 So, um, sorry I didn't pull out my inner Debby Emblom Wolvos for a photo opp of this little beauty. (I snagged this one). I leave that to the pros and I had better things to do….like, eat!! My boyfriend, otherwise known as "Flagstaff", was gearing up for a 4 day fishing trip to the White Mountains, so I offered to make something for the trip. We settled on Navy Bean Soup with Ham. Easy, peasy!
I hit the local grocery and gathered my ingredients. It's not like I never made this before, so a list was not required. While dicing my mire poix, glass of Chardonnay in hand, he shows up with a pound of Durham Ranch Pheasant Sausage with Pork and Cognac and about 2 pounds of Duck Confit! How inconsiderate is that? Geez!!! So, I changed up my game plan and came up with what I referred to as an "Uber Amped up Navy Bean Soup!" Suffice it to say, there was just enough left for the trip…hope he takes some award winning pics whilst warming it up over the campfire!!
Uber Amped up Navy Bean Soup!!
3 T. Butter
1 Lb. Durham Ranch Pheasant Sausage with Pork and Cognac, sliced thin
2 lbs. Duck Confit (seasoned with…I really don't know, it came to me premade) chopped
1 large onion, small dice
3 Carrots, small dice
4 celery stalks, small dice
2 smoked ham hocks (about 1/2 lb)
4 Cans Navy Beans (rinsed and strained)
2 Cups Chicken Stock
3 Cups Water
2 T. Dried Thyme
LOTS OF FRESH GROUND PEPPER!!
So, here's the thing. I was already half way through the process and had added my stock when he brought in the rest of the protein. I had intended to use a ham steak. So, I cooked the sausage separately in a cast iron skillet. The confit was already cooked (duh), so I just chopped it up a bit and added it to the mix. If I were to do it from the beginning, this would be my method.
In a large soup pot, over medium high heat, saute sausage and duck, separately, in batches. Remove and set aside. Add butter and mire poix. Cook until onion is translucent. Add back protein and remainder of ingredients and bring to a boil. Reduce heat and let cook for several hours. (I did 5)
I used the fond in the skillet to add color and flavor to my grilled, garlic butter baquette! Stunning!!