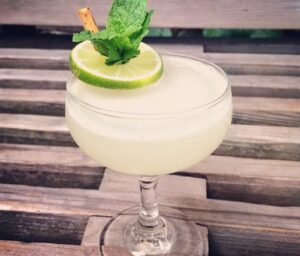 While doing my due diligence into The James Beard Foundation, I stumbled upon this beautiful cocktail on their website, and a story within the story. Audrey Saunders is considered a revolutionary in the world of mixology and opened the Pegu Club in Manhattan in 2005. There's much to say about this amazing woman and I hope to have some interaction with her at some point. In case you're interested, check out this site and just think about it. Pegu Club
This refreshing, elegant libation is a tribute to the Beaux-Arts Neoclassical architectural movement of the late 1800s in France, an era in which sipping pastis was quite fashionable. The "pearl" refers to the visual opacity of the drink, an effect referred to as "louching," which naturally occurs when any anise-flavored liqueur or spirit meets water.
Ingredients
¾ ounce fresh lime juice
¾ ounce cane syrup
1 sprig spearmint
2 ounces Plymouth Gin
¼ ounce Pernod Classic Pastis
Lime and mint for garnish
Method
Combine the lime juice, cane syrup, and mint sprig in a cocktail shaker. Muddle the ingredients. Next, add the Pernod and gin. Fill the shaker to the top with ice and shake well. Double strain into a chilled cocktail glass. Garnish with a lime wheel and mint sprig.