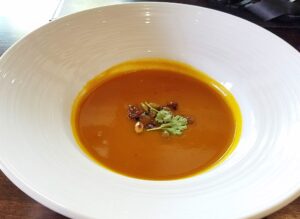 If velvet could actually be licked and swallowed, this is the soup that would fit the bill!! Pretty sure we all uttered the phrase, "It's so velvety!" Then, we inhaled it!! It's quite simple to make and you'll be thanking Chef Pacheco for this beauty for years!
Kabocha Apple soup
Yield: 1 quart – 5 portions
INGREDIENTS
Kabocha squash, seeded 1 lb
Apple, skin on, no core 8 oz
Shallots, julienne 3 oz
Chicken stock 3 cups
Meyer lemon oil 1/2 cup
Season the squash and apple with salt, black white pepper and olive oil and roast at 325 for 25 minutes. Sauté the shallots in olive oil. Add the roasted squash and apple. Add the chicken stock and bring to a boil. Blend in the vitamix adding the meyer lemon oil. Rectify seasoning if necessary.
Garnish:
Guancialle – small dice 1 oz. (otherwise known as face bacon. if you can't find this, use pancetta)
Pumpkin seed – roasted 5 pieces
NOTES:
For each serving: Render diced guanciale, place guanciale and roasted pumpkin seed in bottom of bowl. Pour soup over the top.