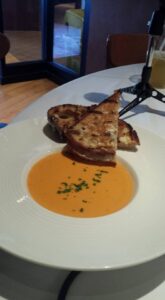 Seriously, the BEST TOMATO SOUP EVA!! Simple, quality, ingredients and if I'm not mistaken….lots of love!!
Mark's Mom's Tomato Soup with White Cheddar Grilled Cheese Panini
Tomato Soup
Makes 4 quarts (8 generous servings)
2 yellow onions 5 pounds vine ripened tomatoes
2 cups EVOO 2 cups heavy cream
3 lemons, juiced
1. Cut onions julienne.
2. Place onions into a large pot with olive oil and cook over medium heat until very tender (about
an hour).
3. Core and cut tomatoes into quarters.
4. Once onions are cooked, add quartered tomatoes.
5. Cook over medium heat until the tomatoes become shapeless (about an hour and a half).
6. Once tomatoes are fully broken down, remove from heat and puree with a stick blender.
7. Continue to mix while adding cream and lemon juice.
8. Season to taste with salt and pepper.
9. Strain through a mesh strainer.
10. Enjoy!!
Grilled Cheese Panini
2 slices sharp white cheddar 2 slices country loaf bread, we use Noble Bakery bread
whole butter
1. Pre-heat Panini press.
2. Coat each bread slice with butter on one side.
3. Place cheese between the bread slices (be sure the buttered side is on the outside of the
sandwich).
4. Place sandwich in Panini press and cook until bread is browned.
5. Remove from Panini press, cut in half and enoy!!