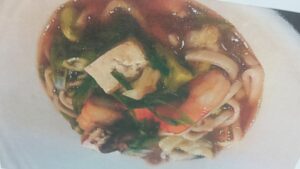 This is the most amazing bowl! Yes, I slurped!! Thanks, Chef!
Mushroom Broth:
5 lbs Button Mushrooms
1 lb Scallions
1 C. Whole peeled Garlic
Add all ingredients with 6 quarts of water and bring to a boil, reduce heat and simmer for 30 minutes. Strain the broth into a clean pot and add 2 cups bonito flakes, simmer for another 30 minutes. Strain and set aside, this is your Dashi.
The Ingredients:
2 lbs. Shrimp
1/4 C. Soybeans
1 Block of Firm Tofu
2 Cups Shaved white cabbage
1/4 C chopped snap peas
Shitake Mushrooms
Low Sodium Soy Sauce
Cooked Udon Noodles
Togarashi
Sambal
Let's Cook It: In a medium stock pot add a small amount of cooking oil and let it warm up. Then add your shrimp. Seaons with some togarashi. Let cook for one minute and turn over. Now add tofu, soybeans, cabbage, mushrooms and peas. Cook one minute. Add 8 oz. of Dashi and hand full of noodles. Cover and cook on high for 4 minutes.
Bowl It Up: In a couple of large bowls, divide up the shrimp and all the other ingredients equally, broth and all! Spoon a dollop of Sambal on the top and serve!