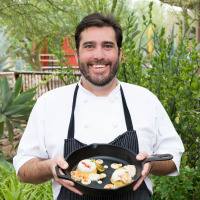 Was lucky enough to get to taste this little beauty in the Chef's Private Dining Room at Gertrude's. Gotta' say that little shot of iced cold Vodka over the top made me one Happy Heidi!
Tomato and Red Pepper Gazpacho
6ea. Roma Tomatoes, diced
3ea. Red Bell Pepper, diced
2ea. Fresno Peppers
1ea. Yellow Onion, diced
1ea. English Cucumber, diced
6ea. Garlic Cloves, crushed
2tbsp. Agave Nectar
1bun. Cilantro, roughly chopped
1bun. Mint
1bun. Basil
1qt. Tomato Juice
4T. Sherry Wine Vinegar
4t. Salt
.5C. Extra Virgin Oil
Procedure – In a mixing bowl combine all of the ingredients except the olive oil. Mix well and let them sit covered in the refrigerator overnight preferably with some weight on top to press the ingredients (which allows the ingredients to marinate more effectively).
-The following day puree the vegetable medley in your blender on high speed, while slowly drizzling in the olive oil.
-Ensure that the soup is well chilled and serve.
*adjust seasoning with additional salt and or sherry vinegar if necessary.
*will hold for up to four days in the fridge.
Gertrude's at the Desert Botanical Garden
1201 N. Galvin Parkway, Phoenix, AZ, 85008 | 480.719.8600 | www.gertrudesrestaurant.net