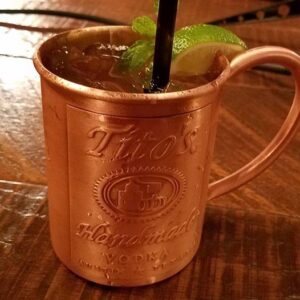 Another great afternoon at Bootleggers! As we get closer to the surface of the sun here in the Valley of the sun, icy cold concoctions are just one way to beat the heat! Tito's Vodka (from the Lonestar State) is the perfect partner for Ginger Beer and a little lime. Copper cups just make them look so much more inviting. Hold it to your forehead…but for the love of Pete, don't steal them!!!!
1.5 oz Tito's Vodka
4 oz. Ginger Beer
Dash of Lime Juice
Garnish with Lime Wedge
Fill a copper cup full of crushed ice, add liquid, garnish…enjoy!!