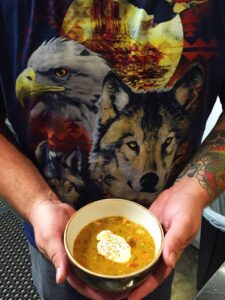 Seriously, I could have eaten the entire pot of this stuff! Amazing flavors, perfect consistency, warm and comforting. All that, PLUS – he made it up just that morning and it tasted that good! Love these Chefs and their magic stuff! Oh, and probably the best dumplings….EVA!
SOUP
1 tablespoon vegetable oil
1/2 cup chopped yellow onion
1 large carrot, peeled and diced
2 stalks celery, diced
2 cloves garlic, minced
2 (14 1/2 oz.) cans chicken broth
1 (10 oz.) can tomatoes and peppers
3 poblano peppers (blistered, peeled and chopped)
1 teaspoon dried oregano, crushed
1/2 teaspoon ground cumin
2 tablespoons achiote paste
2 cups chopped, cooked chicken
2 tablespoons snipped fresh cilantro
DUMPLINGS
1 1/2 cups corn masa flour
1 teaspoon baking powder
3 tablespoons AP flour
1/4 teaspoon salt
4 tablespoons butter, softened
1 1/4 cups reduced-sodium chicken broth
3 tablespoons chopped cilantro
1/4 cup sour cream
Preparation Directions
For soup: HEAT oil in large saucepan over medium heat. Add onion, carrot, celeryand garlic, cooking and stirring, until tender. Add chicken broth, tomatoes, chili peppers, oregano, achiote, poblanos and cumin. Bring to a boil. Reduce heat and simmer 15 minutes. Stir in chicken and cilantro.
For dumplings: COMBINE masa flour, AP flour, baking powder and salt in medium bowl. Add softened butter, gently mixing to combine. Stir in chicken broth and cilantro to make a soft dough. Divide into 16 dumplings using a rounded tablespoon. Shape, by hand, into balls.
DROP dumplings into soup. Heat to boiling. Cover and simmer 10 minutes or until dumplings are cooked through. Serve with a dollop of sour cream, if desired.