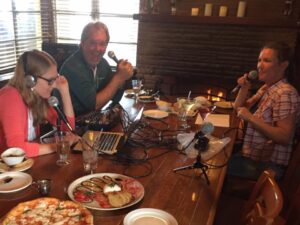 We got some double fisted action from Fat Olives! Two? Two Martinis? Color me happy…or red,or yellow. Many thanks to Ryan Redmond for sharing these with us and the ever engaging Chef John Conley for hosting. I LOVE MY JOB!!
BASIL LEMONDROP MARTINI
2.5oz Sobieski Vodka
.5oz house-made Limoncello
Half a lemon squeezed
Basil chiffonade
.25oz simple syrup
Shaken and served with a sugar rim and lemon wedge in a chilled martini glass.
RED-TINI
2oz Sobieski Vodka
.75oz Vanilla syrup
.50oz Rasberry syrup
Half a lemon squeezed
1oz Hahn Rohn Blend floated on top
Garnished with a lemon wedge and a cherry