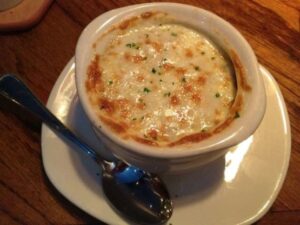 We got this yummy dish from one of our guests at Trillium 44! Grey Tie Events prepares snacks at this beautiful property on the last Wednesday of every month. We have quite the loyal crowd and we just love it! Jared Norwood is always in attendance and shared his creation with us. We adore our foodies!!!!
2 white onions
3 table spoons butter
1 table spoon flour
2 cups chicken broth
1 cup milk
1/2 whipping cream
3 eggs
black pepper
salt
bay leaves
garlic
large croutons
havarti cheese slices
saute onions in butter until cooked, stir in flour, salt, chicken broth, garlic bay leaves allow to simmer. Stir in black pepper, salt, milk, cream, and eggs. Place soup into serving bowls with croutons, and place havarti cheese on top to melt before serving.