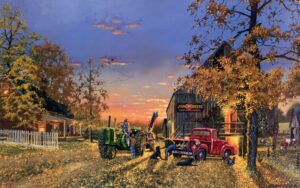 As the little red line of mercury begins to head south, we relish in the crunch of leaves beneath our feet, long evening shadows and those crisp, clear mornings savored with a great cup of java. Whatever tickles your fancy during this lovely time of year, breathe deeply and inhale Autumn.
Residing here in the sunshine state with temps not dropping below 70 until after Halloween, things are a touch different, which is why I take a weekend road trip north to assuage my senses. My childhood in Northern Washington State was a different story entirely. Anyhoo, no matter where you may be planted, the Fall Harvest and all its' delights can still be yours to enjoy.
This has been my most cherished time of since I was young girl. The hay was tucked away for winter, which meant we didn't have to change the sprinklers for at least another 7 months; the fruits and vegetables had been put up and weeding was but a memory, and Sunday pick up football in the pasture was in full swing. Best of all, my mother would start whipping up her glorious soups, stews and casseroles; filling the house with savory scents of meat, rosemary, chicken and chili. Doesn't take much more than that for kids to scream, "Is it dinner time, yet?"
Bring on your Dutch oven or Crock Pot; change up that fruity Sauvignon Blanc for a deep, velvety Cabernet or Syrah. Roasted root vegetables, thick, savory sauces and the anticipation of post-autumnal equinox holidays and celebrations are just a few of the reasons we're so happy that the 4th quarter has arrived!
Autumn invites us back inside to create those dishes that strengthen our resolve to rake the leaves, to take a brisk walk on a chilly Fall evening, to forgive runny nosed kids playing outside without a coat; and, to thoroughly enjoy a crackling fire by which to warm ourselves surrounded by those we love.
So, dig out that cable knit sweater you can't seem to part with, put on your favorite comfy jeans, light that fire and let's get cookin'!