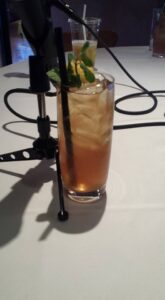 I do believe this is the first time we've ever featured a Long Island Iced Tea!! Aside from it being a total taste treat, the super neato thing is that it comes out of a spout…that's right, a super cool cocktail concocter! Tarbell's is featuring not only this LIIT, but also an Old Fashioned and a Manhattan from this innovative invention! Stop in for a sip or two and sample some extraordinary fare from the "Chameleon on Camelback!" I read that somewhere…..
L.I.I.T.
To Serve:
1/2 ounces Vodka
1/2 ounces Rum
1/2 ounces Gin
1/2 ounces Torres Orange Liqueur
1/2 ounces Alessio Vermouth Chinato
3/4 ounces Housemade Cola Syrup
(Note: Cola syrup can be found at your local grocery store.)
3/4 ounces fresh lemon juice
1. Add all ingredients to a cocktail mixer, and shake for 20 seconds.
2. Add ice and shake for another 20 seconds.
3. Strain into a Collins glass, filled with fresh ice.
4. Garnish with a lemon twist and mint.
5. Enjoy!!