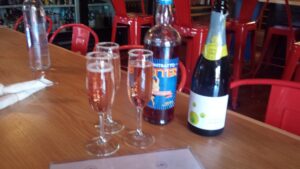 I love surprises, especially when they're pleasant! Christina was pleased….I'm not a big fan of bitters in any form or fashion, but Jennifer Russo and Kristie Joss changed my mind with this.
The Giorgio
Less than 1 oz Contratto Bitters
2 squirts simple syrup
Cava
Rose Petal Sugar Rim
Rim a Champagne or Martini Glass with Rose Petal Sugar. Add bitters, syrup and Cava. Wow, that was easy!!