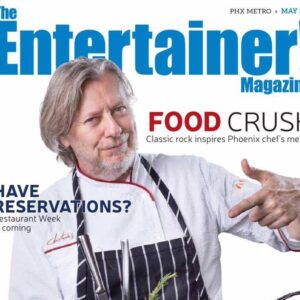 Many thanks to Chef Christopher Gross for hosting into the Soup at Christopher's and Crush Lounge! We had an absolute blast…and I'm pretty sure all the boys did, too! This is a beautiful soup, Chef!
WILD MUSHROOM SOUP
WITH FOIE GRAS
SERVES: 8 PERSONS
INGREDIENTS:
6 OZ PORT
4 CUPS DUCK STOCK
4 OZ CHANTERELLES
4 OZ MUSHROOM CAPS
1 TBSP FINELY CHOPPED SHALLOTS
1 TBSP OLIVE OIL
3 TBSP FRESH TARRAGON LEAVES OR CHERVIL, COARSELY CHOPPED
1 TOMATO PEELED, SEEDED, AND FINELY DICED
12 OZ FOIE GRAS
1 PC TRUFFLE (WINTER OR SUMMER)
1 TSP TRUFFLE OIL (WHITE)
PREPARATION:
1.) REDUCE PORT TO 2 OZ. (1/4 CUP). BRING STOCK TO BOIL AND ADD
REDUCED PORT AND ANY MUSHROOM STEMS, PEELS OR PIECES.
SIMMER ABOUT 5 MINUTES.
2.) AFTER STOCK SIMMERS, STRAIN AND KEEP HOT READY TO SERVE.
3.) SAUTE MUSHROOMS IN ONE TABLESPOON OLIVE OIL. ADD SHALLOTS
AND CONTINUE COOKING UNTIL SHALLOTS ARE SOFT AND
TRANSLUCENT.
4.) PLACE MUSHROOMS, TOMATO, TARRAGON OR CHERVIL IN THE BOTTOM
OF EIGHT SHALLOW SOUP BOWLS.
5.) SAUTE FOIE GRAS IN A VERY HOT PAN ON BOTH SIDES UNTIL DESIRED
TEMPERATURE.
6.) PLACE FOIE GRAS ON TOP OF MUSHROOM IN CENTER OF BOWL.
7.) PLACE TRUFFLES AROUND BOWL.
8.) THEN POUR IN SOUP AND SPOON IN A DROP OF TRUFFLE OIL INTO
EACH BOWL.