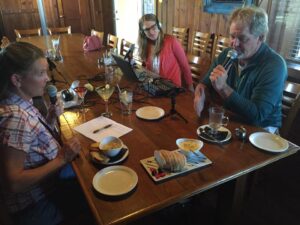 Sometimes I just get so excited I forget to snap shots of the Soup and the Whet!! Oh well….zoom in if you can and you'll see the beautiful bowl of Fat Olives Toscana Forno! Roaring fire, good friends, good times, great show!
TOSCANA FORNO SOUP
8 cups chicken stock
2 cups heavy cream
2 lbs Italian Sausage
2 cups packed fresh spinach
4 slices of bacon
6 large russet potatoes – ½ inch cubed
1 large onion chopped
1 table spoon minced garlic
1 teaspoon crushed red pepper
In a large 3 quart stock pot:
-Cook the Italian Sausage with red pepper flakes over medium heat until crumbled (10-15min) – drain fat and set aside.
-Cook the bacon in the same pot until crisp – drain fat and continue.
-Add onions and garlic and cook until soft.
-Pour in chicken stock – add potatoes – bring to a boil – reduce heat – add sausage and cream.
-Cook at medium heat (simmer) for 25 minutes – add spinach.