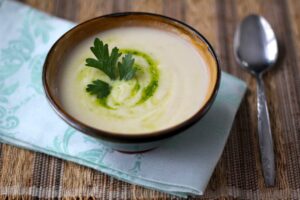 Emily and I continued to salivate for several hours AFTER slurping down this beauty. Not only that, it seemed to ask as a restorative, of sorts, for Emily's heavy duty hangover. Soup….go figure! Thanks, Chef!!
2 Tbsp Oil
3 each Shallots, minced
3 # Celery root, peeled and cut into ¾ to 1 inch pieces
5 cups Water
2 cups Heavy cream
2 cups Cooked Large Diced Pancetta
To Taste Sherry Vinegar
To Taste Salt and Pepper
Procedure
1. Place large a sauce pan on medium high heat. Add oil and shallots. Cook shallots until softened. Add cleaned celery root and cook for 5 minutes. Cover celery root with water and cook for 30 minutes until tender. Add additional water as needed when cooking.
2. Remove from heat and puree celery root in blender in two batches. Add one cup of cream per batch when pureeing.
3. Season with salt, pepper, and sherry vinegar.
4. Place pureed soup into a clean sauce pan and reheat to serving temperature.
5. Ladle soup into bowls and garnish with pancetta and arugula puree. (Recipe below)
6. Enjoy
Arugula Puree
3 cups Arugula
To Taste Salt and Pepper
Procedure
1. Place a medium sauce pot ¾ filled with water on high heat to a boil.
2. Get a ice bath ready. Add arugula to boiling water and cook until tender, about 45 seconds. Shock arugula in ice bath.
3. Place arugula into a blender and puree until smooth. Add water as needed to make arugula puree.
4. Season with salt and pepper.