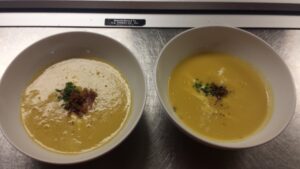 Even though my smart phone pics don't do this justice, we love it when our guests give us a bowl of their goodness to share on the air! YUMMY!!!!
Corn Bisque
INGREDIENTS
5 ears of fresh or frozen corn
3 cups water
1 bay leaf
2 cups milk
1/4 teaspoon Tabasco, or to taste
whole or minced fresh parsley leaves for garnish
crème fraiche for garnish
PREPARATION
Cut the corn kernels from the cobs on a work surface, transfer them to a large saucepan, and with the back of a knife scrape the milk from the cobs into the pan. Cut each cob into 3 pieces and add them to the pan. Add the water and the bay leaf and simmer the mixture, covered, for 30 minutes. Discard the cobs and the bay leaf, in a blender purée the corn mixture in batches, and strain the purée through a fine sieve into a bowl, pressing hard on the solids.
Add the milk, the Tabasco, and salt to taste and heat the mixture over moderate heat, stirring, being careful not to let it boil, until it is hot. Ladle the soup into heated shallow bowls and garnish each serving with some of the parsley and crème fraiche.