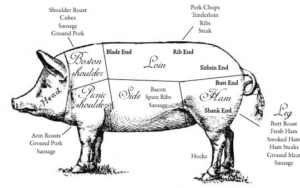 You'll get the name connection when you listen to the show! I love a good slow cooked pork butt! This isn't a recipe, per se, but a guideline for some serious leftover goodness. Pig be good!
4-5 lb. pork butt, trimmed
mire poix
garlic (lots)
roasted tomatillos, jalapenos and pablanos
cinnamon stick
whole cloves
cumin
dried red chilis
red pepper flakes
fresh cilantro
water to almost cover
Cook for 6-8 hours. We eat this with apple and squash puree and a cilantro lime creme fraiche.
Once we've had our fill for the next 2-3 days I make soup! Sweat some onions and garlic, pull the pork and add to pot. Deglaze with a stout beer, add a little chicken or vegie stock and whatever else turns you on. This is one of those 'empty your fridge on Friday' kind of deals. Frozen corn, green beans, some tomatoes, a few pieces of bacon…whateva! Recycled pork ~ who doesn't love it??